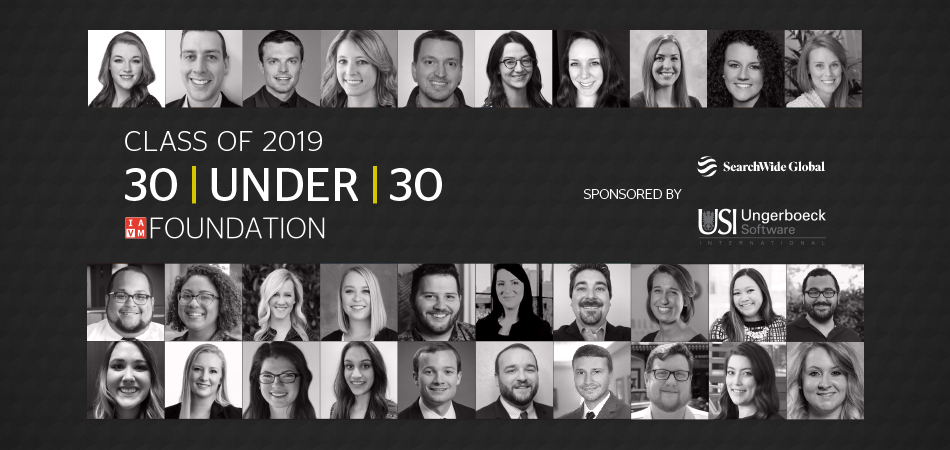 The IAVM Foundation has announced the 30|UNDER|30 Class of 2019.  The program, in its fifth year, is made possible thanks to the ongoing support of co-founding partners SearchWide Global and Ungerboeck Software International, as well as many IAVM Foundation donors.
"There were many extremely qualified and worthy applicants this year," stated Kathryn Eades, IAVM Foundation Director of Development.  "Tough choices were made by the Foundation's large group of judges, which included members from the Foundation Board of Trustees and numerous past 30|UNDER|30 reciepients.  Those chosen exemplify the characteristics of leadership and developing talent necessary to the future of our industry."
Designed to engage the best and brightest young professionals in the venue management industry, the 30|UNDER|30 program recognizes emerging leaders – and their talents – which help accelerate the industry and carry it into the future. The Class of 2019 will convene for the first time at IAVM's VenueConnect Annual Conference and Trade Show in Chicago, July 21-24.
Award recipients will receive full complimentary registration to VenueConnect, as well as an $800 travel stipend.  They will also be provided opportunities for professional development in the venue industry to help better prepare them for continued career growth.
"Now in its fifth year, we continue to be proud of this program and proud to be the founding partner, and we thank IAVM for their commitment to it," said Mark Gnatovic, Senior Vice President of SearchWide Global and a Foundation Trustee. "Not only does the program bring incredible value to our industry, but it brings unlimited opportunity to the recipients. By shaping the future industry leaders, we can build an even better future for the venue management industry."
Meet the IAVM Foundation's 30|UNDER|30 Class of 2019:
Ross Girouard,  Assistant General Manager,  Allen Event Center
Brian Wright,  CMMS & Safety Supervisor,  Mercedes-Benz Stadium
Adam Sigman,  Event Coordinator,  Charleston Coliseum & Convention Center
Kiana Kim,  Performance Hall Manager,  Charleston Gaillard Center
Meagan Yanczura,  Event Manager,  Nationwide Arena
Caiti Farquharson,  Marketing & Communications Specialist,  Edmonton EXPO Centre
Trent Gray,  Assistant Box Office Manager,  SMG
London Lecy,  Event Services Manager,  Cobb Galleria Centre
Meryl Loop,  Guest Experience Manager,  INTRUST Bank Arena
Jasmine Shannon,  Event Coordinator ,  Berry Center
Kyle May,  Corporate Manager,  Walton Arts Center & Walmart AMP
Justin Holmes Taylor,  Events Assistant,  Walton Arts Center
Kevin DiBlasi,  Operations Supervisor,  SPECTRA Venue Management/Duke Energy Convention Center
Sadaf Usmani,  Manager, Guest Services ,  MetLife Stadium
Katie Oskey,  Guest Experience Team Manager,  BJCC
Jordan Fisher,  Event Coordinator,  Amalie Arena
Caitlin Sevener,  Event Specialist,  Allen Event Center
Brianna Hall,  Marketing Manager,  Iowa State Center
Brandon Shaffer,  Box Office Manager,  Spectra Venue Management at the Donald L. Tucker Civic Center
Jarrod Trevathan,  Event Coordinator,  United Supermarkets Arena
Philomena Duffy,  Manager of General Operations & Facilities,  Indianapolis Symphony Orchestra
Emily Pavelich,  Event Coordinator,  Oilers Entertainment Group / Rogers Place
Jabari Earl,  Event Manager,  AT&T Performing Arts Center
Jennifer Ulich,  Senior Event Manager,  AT&T Performing Arts Center
Katherine Garcia,  Box Office Manager,  SMG – Miller Theater
Brittany Gilbert,  Operations and Security Coordinator,  State Farm Stadium – an SMG Managed Facility
Andrew Luther,  General Manager,  Ford Idaho Center
Naomi Link,  Event Manager,  AT&T Performing Arts Center
Jonnah Renfroe,  Senior Events Coordinator,  Mabee Center
Olivia Lofstedt,  Director of Event Services,  Oregon Convention Center
The post IAVM Foundation Announces the 30|UNDER|30 Class of 2019 appeared first on International Association of Venue Managers.