Convention Center Generates Record Breaking $781 Million In Economic Impact For The City Of Los Angeles
Mon, 09/18/2017 - 12:18pm
Webtest
The Los Angeles Convention Center (LACC), professionally managed by AEG Facilities, reported generating a record-breaking economic impact of $781 million for the City of Los Angeles in fiscal 2016/2017 with $478 million attributed to convention attendees direct spending. An additional $26.4 million was generated in tax revenues to the City, with $18.2 million in hotel transient-occupancy tax contributions to the City's general fund. This is an increase over $90 million in total economic impact over last fiscal year.
The convention center also set a record in the number of events they hosted, including an increase in citywide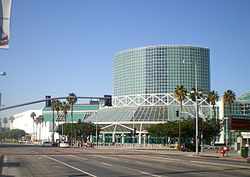 conventions, resulting in an increased occupancy rate of 74 percent – industry standard indicates a convention center is considered fully occupied at 70 percent. During fiscal year 2016/2017, the LACC hosted 2.2 million visitors across 215 events. These events included prestigious consumer shows, industry trade shows, and 32 large-scale citywide conventions such as the American Society of Cataract and Refractive Surgery, American Association of Neurological Surgeons and College of Chest Physicians which filled an estimated 526,000 hotel room nights while sustaining 12,700 local jobs.
AEG Facilities, working closely with the Los Angeles Tourism & Convention Board has increased event bookings every year since assuming management in late 2013.
"As a centerpiece of Downtown LA, the Los Angeles Convention Center has proven to be an integral economic impact driver for the City," said Doane Liu, executive director of the Los Angeles Department of Convention and Tourism Department. "LACC events support L.A.'s economy through the direct and indirect spending by event and convention attendees on travel, lodging, meals, transportation, and entertainment, saving local taxpayer dollars and contributing funds for essential city services."
The post Convention Center Generates Record Breaking $781 Million In Economic Impact For The City Of Los Angeles appeared first on International Association of Venue Managers.