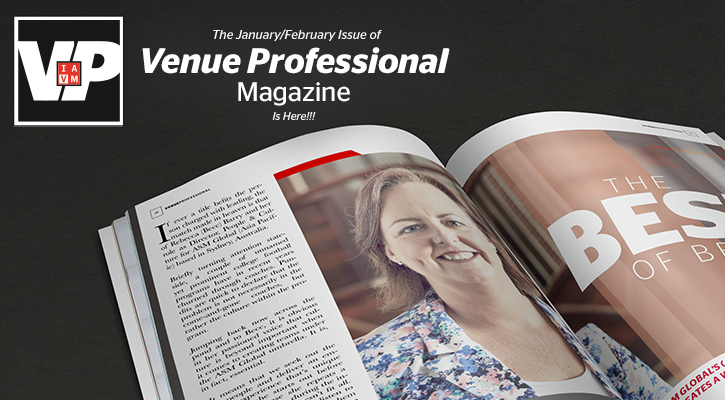 Read the January/February 2022 Issue Now!
Happy 2022, IAVM family!
Wishing you, your venue, your business, your family and anything YOU the very best for 2022. I always fail miserably at resolutions, but for you, I wish health, happiness, and... business!
Venue Professional is here alongside you to cover the stories that matter to you the most. We start off the year with a full slate of outstanding articles that should have you reading the magazine from cover to cover.
We visit with Rebecca "Becc" Barry in Australia who shares what ASM Global (Asia and Pacific) has in store for the year and how the company has built a "one-size-fits-one" culture that values each and every employee. We know you will enjoy this cover feature to hear the story of one of the best and brightest in the venue management world.
We don't stop there. We cover some "meat and potato" and tried-and-true features with a fresh and updated look at crowd management in a post-pandemic setting. (Note: "post-pandemic" is relative and fluid, as we all know as the newest variant of the virus is again causing all kinds of uncertainty in the world.)
We also have a feature look at customer service training. That, too, takes on a different approach as guests come back to our venues and want to know that they are being safely protected.
Looking to have a greater digital signage presence inside and outside your venue? Find out how one venue is successfully tapping into the experience and what you can learn.
Our Linda Deckard also has a special interview with Matt McClain, a 30|UNDER|30 honoree in 2016. Where is Matt five years later? You'll need to read to find out!
Our sector columns and other regular features including In The Quirks, Venue Doctors, and The Lighter Side are as always present and must reading for education as well as some levity and humor, which we all need these days!
Welcome to 2022, and I sound the horn once again that I WANT your story suggestions as well as your own penned stories to appear in Venue Professional. Reach me at rv.baugus@iavm.org!
 
R.V. Baugus
Venue Professional Senior Editor