Opening Session Keynote Speakers Offer Hope, Humor
Tue, 08/08/2017 - 3:46pm
Webtest
The Opening Session of VenueConnect 2017 offered hope for the country in times of terrorist turmoil as Acting Secretary Elaine Duke of the Department of Homeland Security pledged the support of her office in helping keep venues safe as a place where people go to assemble and enjoy a variety of events.
When she finished her comments, it was time for local entertainment executive Adam Black to interview fellow local actor, singer, and comedian Chip Esten, on the subject of playing venues and looking at some of Esten's career highlights which include his current role on CMT's "Nashville" as Deacon Claybourne.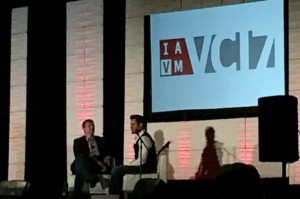 It was hope, humor, and inspiration all rolled tidily into a morning grand ballroom session in front of a packed audience.
Deputy Secretary Duke connected quite personally with her audience, nothing IAVM's long-standing partnership with the DHS. It was also quite obvious that Duke is a frequent patron and consumer of the events held in public assembly venues.
"These are places where we share good memories and experience great things together," she said.
Duke specifically mentioned the attack at the Manchester Arena following an Ariana Grande concert that resulted in the deaths of 22 people and the injuries of several more innocent guests, many of them children.
"The youngest to die was eight-years-old," she said. "That is the same age as my granddaughter. It makes it personal."
Duke further noted the work being done in Washington, D.C., to combat terrorism, whose primary function short of inflicting fatalities is to create fear in people.
"They are bringing the battleground to our civil streets," Duke said. "They want to shock and mortify and attack innocent people in places we think are safe."
The ISIS propaganda machine is a well-oiled one, she noted as she discussed an article coming out from the terrorist organization entitled "How to make a bomb in the kitchen of your mom." Duke said that since 2013 the group has been linked to 200 threats, with the United States the ongoing top target.
"We are tracking over 1,000 homeland terrorist cases, but it's the ones not on our radar that we are concerned about," she said.
Duke added that security is a shared responsibility and the work of Protective Security Advisors (PSA) in supporting the NCAA, Super Bowl, and other major events. Some measures that venues can take to solidify security is to connect by reaching out to the local community, especially law enforcement, plan by thinking about how to handle emergencies and suspicious packages, train by knowing where to call and what to do, and report by saying something when seeing something.
"We cannot be afraid to live our lives," she said. "We should all be able to go and sing at the concerts and buy tickets to The Nutcracker."
After the Acting Secretary concluded her poignant remarks, it was time for Esten to take the stage … belatedly but with just cause, according to the actor, singer, and comedian. "It was because of the Secret Service," he said. "I see these men and just walked back to my dressing room."
From there it was time for Black to ask the questions and Esten to share a career's worth of experiences, many of which obviously included performances at IAVM member venues. He specifically noted performances at the Kennedy Center, Carnegie Hall, and at the White House, where "the Secret Service is there, too! The venue, though, was a spectacle as much as the show itself."
Esten shared some of his upbringing and interest in comedy, acting, and singing and knew that he wanted to make people laugh. It was more than that, though, as he added that he wanted to act to make people cry and get angry, which led to the acting career.
Esten talked about how the venue made the show almost as the show made the venue.
"The great venues can create an experience," he said. "They are like classic books. It is always the little things, though, that make or break a show. Having a great staff is key. It's really true that it's not just the artist that makes the show. It's the venue. A great venue and a great staff can just lift you up.
"Security people, golden employees … those take what they do and make it their life work. They're smiling and they give support. You can tell the places that care. It makes the night very, very special."
Just as Acting Secretary Duke and Esten made the Opening Session morning special.
The post Opening Session Keynote Speakers Offer Hope, Humor appeared first on International Association of Venue Managers.